MLM COMPENSATION PLANS
ProMLM Software offers MLM compensation plans for both Direct Selling and Network Marketing companies. In addition to the plans we offer, we also customize MLM plans based on your requirements and needs with Hybrid comp plan options.
In a multi-level marketing business, there are a number of MLM compensation plans you can choose. Each MLM plan has its advantages and disadvantages.
PARTY PLAN
With our party plan business module, companies can authorize their distributors who have signed up as a representative on their Direct Selling business to host in-home or online/virtual parties. The purpose of the party is to sell products directly to consumers, in a fun, social setting. Many representatives leverage social selling on Facebook Live, Instagram.
The attendees of a party serve as a source of future party hosts. As an incentive for hosting a party, the hostess receives a Hostess Reward. The Reward can be a discount on products, free products, or the ability to purchase exclusive Hostess Only products. The representative receives compensation on the retail sales from a party.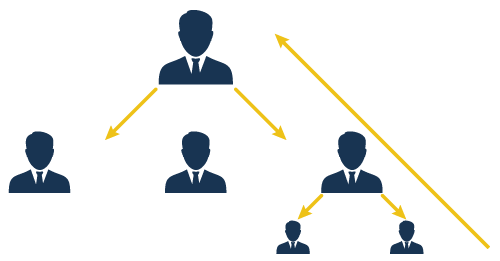 AUSTRALIAN X-UP PLAN
Australian X-Up Plan is a modified version of the Uni-level. The Australian One-up, Two-Up, or Three-Up, or X-Up.
BINARY PLAN
MLM Binary plan is one of the most popular in the industry and widely accepted in the world. In a Binary compensation plan, every member sponsors only two front-line members. If a member sponsors more than two members, the excess is placed at levels below the sponsoring member's front-line (downline).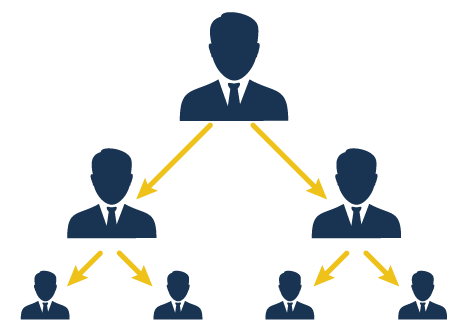 BOARD MATRIX PLAN
Board Plan is also known as the Revolving Matrix Plan. In this plan a group of members work in a team (Board), consisting of a set number of members. When that number is reached, the Board splits into two sub-trees. The top one member promoted into the next higher board. In MLM terminology the company can set how many promotional board members to be introduced and how many members can be aboard.
FORCED MATRIX PLAN
MLM Matrix Plan also is known as a ladder Plan or Forced Matrix Plan. Members are organized in a width and depth and compensated when they achieve a set level. The MLM Company can set structure for members to qualify a particular level that maybe 3 in width and 5 in-depth. In other words, a distributor only can introduce 3 as his front-line and a member can earn compensation up to the 5th level.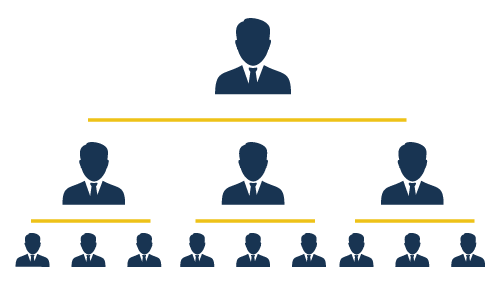 CYCLE MATRIX PLAN
Cycle Matrix is the combination of Forced Matrix with performance. The user enters the first matrix will need to perform & complete his matrix & move up to the next cycle.
LINEAR OR MONO-LINE PLAN
Linear or Mono-line compensation plans are structured as a downward thread of distributors, one under the other, growing continually as new distributors join. This angle on the structure and the pitch tends to drive recruitment and growth. Most commonly, would be the display of Linear/Mono-line genealogy, with coded bonuses, rank-based infinity overrides, personally sponsored matching bonuses and global bonus pool distribution methods.
STAIR-STEP BREAKAWAY PLAN
This type of multi-level marketing compensation plan is characterized by having representatives who are responsible for both personal and group sales volumes. Volume is created by recruiting and retailing products. Various discounts or rebates may be paid to group leaders and a group leader can be any representative with one or more downline recruits. Once predefined personal and/or group volumes are achieved, a representative moves up a step. This continues until the representative "breaks away" from their upline.
UNI-LEVEL SYSTEM
Uni-level Plan permits the affiliates to introduce newcomers in its front line. There are no restrictions for width- members can sponsor unlimited width under his/her front line and compensation distributed up to the limited depth.
Schedule an Exclusive demo on our
Latest iCON edition
Call us at 315.231.6666 to let us help you select the option or plan that is best suited for your needs.