A Comprehensive Guide to Manually Adding Distributors in the Admin Back Office #
Introduction: #
This comprehensive guide aims to provide detailed and professional instructions on how administrators can manually add distributors to our software through the Admin Back Office. The process comprises four distinct steps, each designed to ensure precision and efficiency in distributor addition. This guide will walk you through each step clearly and comprehensively.
Section 1: Adding Distributors Manually #
To manually add distributors, follow these four essential steps:
Step 1: Add Distributor Account #
Purpose: #
This step serves as the initiation point for adding a new distributor.
Procedure: #
1. Access the Admin Back Office interface.
2. Locate the option labeled "Add Distributor" and click on it to commence the distributor addition process.

Step 2: Enter Their Details #
Purpose: #
In this step, you will input distributor-specific information to establish a complete record.
Procedure: #
1. A new page will open, providing fields for entering essential distributor details, including name, contact information, and other pertinent information.
2. Ensure that all information is entered accurately and completely to maintain data integrity.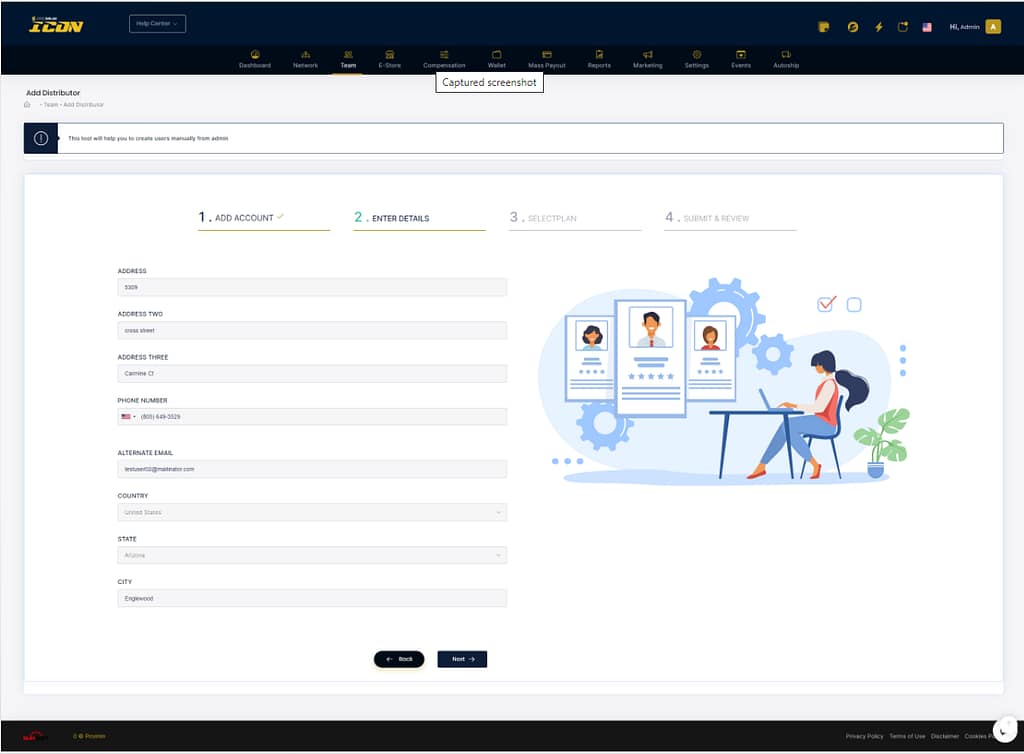 Step 3: Selecting Plan #
Purpose: #
Choose the most suitable plan for the newly added distributor.
Procedure: #
1. Following the entry of distributor details, you will be prompted to select an appropriate plan.
2. Carefully review the available plan options and choose the one that aligns with the distributor's specific needs and objectives.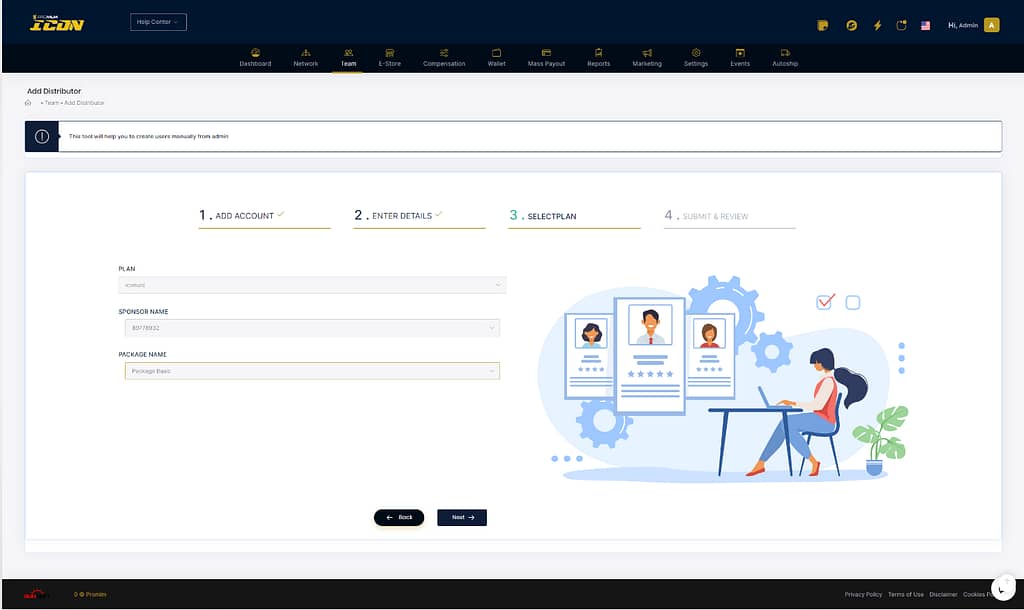 Step 4: Submit & Review #
Purpose: #
This final step involves a thorough review of the provided information and the formal submission of the addition.
Procedure: #
1. Double-check all the entered details to ensure their accuracy and completeness.
2. Once you are satisfied with the accuracy of the information, click the "Submit" button to finalize the distributor addition.
3. Take a moment to review the newly added distributor's information to confirm its correctness before concluding the process.
This guide has provided a comprehensive and professional overview of the process for manually adding distributors within the Admin Back Office of our software. By following the four clearly outlined steps, administrators can efficiently and accurately add distributors to the system. This streamlined process ensures that distributor information is correctly recorded and aligned with the chosen plan, contributing to effective distributor management.