Australian X-Up Compensation Plan
X-Up, Australian X-Up or Modified Uni-Level Compensation Plans are The MLM Industry Trend Now. It is also referred to as "Pass-up" sales by some since the sales made are actually passed to a user's upline.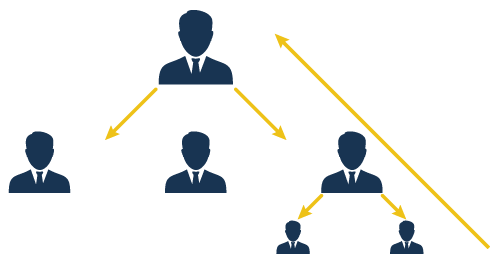 Australian X-Up Compensation Plan
The Australian X Up plan works in a simple way. When the X is replaced by 2 for example, it becomes Australian 2-Up plan. In this plan, a user earns nothing from his down-line members during the first sale as the entire sales made by his down-lines goes to his up line.
The member earns when his down-lines have now recruited members. At this point, the sales made by the newly recruited members of his down-line are passed unto him. And it continues on and on like a chain.
The administrator can define any X-UP type and have control over pass-up commissions.
Pro MLM Software has developed MLM Australian X-UP plan software for many clients globally with frequent software updates and support services.
MLM Software for Australian X-UP plan provides some appealing features
Why the Australian MLM Plan?
For multi-level marketing companies, the Australian MLM plan offers simple and easy calculation method which makes it easy to manage and operate. The Plan can provide higher earnings and a good opportunity for the entire team. This plan pays your members with an infinite downline.
ProMLM has vast experience in the MLM software industry so that we can provide MLM software based on your need for an Australian X- UP MLM Plan with a bundle of advanced features to ensure the success of your MLM business.
Australian X-Up Compensation Plan Commission Types
Schedule an Exclusive demo on our
Latest iCON edition
Call us at 315.231.6666 to let us help you select the option or plan that is best suited for your needs.